Home
» Space to work » Copy, scan & print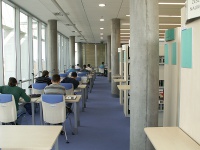 Reading Room
PUT Library offers the following copying services (available for readers in the Reading Room):
scanning,
sending scanned images as computer files by email,
printing (up to 5 pages) in consultation with the librarian on duty (service available for PUT employees and students).
Photocopies of Library's materials can only be used for private study in accordance with the provisions of the Copyright Act (Dz.U. Nr 80, poz. 904 z 2000 r., ze zm.).
update: Tue, 19/02/2019 - 12:03